Fighter Combat Announces 2010 Adventure Flight Winner
MESA, Ariz., June 15, 2010. Fighter Combat International, an Arizona-based aviation adventure company, is very pleased to announce their annual winner of an adrenaline filled adventure flight. The lucky winner will fly with a real military fighter pilot in the world's highest performance certified aerobatic airplane.
"This is a special honor for us and we are excited to announce Kristy Wooten from North Carolina as this year's winner!," said Paul BJ Ransbury, President of Fighter Combat International.
"An annual adventure flight give-away is something we've started this year and will be continued in the future for all visitors to our website that sign-up for it. The winner of this annual $750 give-away adventure credit can use it in conjunction with other great offers such as the spectacular one we have running right now for Father's Day that expires on June 20."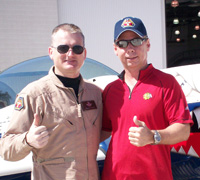 "If I could have rated higher than excellent I would have." reported Dave Meyer of Grace Lake, Illinois, a recent Fighter Combat International client and now extreme adventurer, "The support staff was great, the plane was awesome and I can't say enough about how professional and knowledgeable [the instructor] was. On a scale of 1 to 10 it was a 12″.
About Fighter Combat International
Fighter Combat International, headquartered in Mesa Arizona, is an aerial adventure company that provides a wide spectrum of aviation thrill-seeker services tailored to meet the participant's desire and budget. Participants have the opportunity to fly up to 75 percent of the flight. This is not a simulation and no flying experience is required. Real-as-it-Gets Air Combat and Aerobatic Adventure Flights are available for individuals and groups or can be implemented as reward and incentive programs for corporations seeking to reward valued key clients or to motivate high-performing executives. Each of Fighter Combat's pilots is an experienced fighter pilot with multiple tours of military flight duty and thousands of flying hours. Their aircraft are German-built Extra 300L, world-class unlimited aerobatic aircraft, specially equipped with a gunsight, multiple view audio/video system, smoke generator, and a combat audio system to provide a true-to-life effect. For additional information visit Fightercombat or call 866/FLY-HARD.
CONTACT:
Fighter Combat International
Mesa, Arizona
Faye Hamilton
480/279-1881 or 866/FLY-HARD